Reports of Diego Maradona's death are
false
.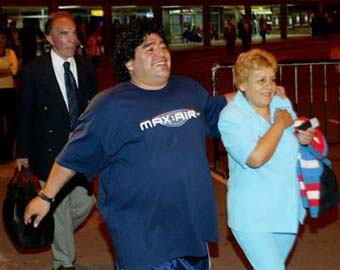 BUENOS AIRES, Argentina (AP) - Diego Maradona has been conditionally released from a psychiatric clinic where he has been treated for alcoholism, his doctor, Alfredo Cahe, said Monday.
Maradona, 46, has been treated at several clinics since he was brought to a hospital on March 28. Doctors say excessive alcohol consumption led to a form of hepatitis.
Obviously the pictures don't suggest it, but it can be argued that this guy was the greatest player, not just of his generation, but
EVER!
It's really quite amazing that he has been able to hang on this long.
I always wonder what it will be like in Argentina whenever El Diegito finally succumbs to his many vices. You thought Eva Peron was a big deal???